Rogers Behavioral Health launched a system-wide safety program called Go Pro for Safety with a focus to encourage all employees to be proactive in protecting patients and the Rogers team. The vision is to inspire a culture of safety leading to the safest environment for patients and employees by using an interdisciplinary team approach to deliver evidence-based, highly reliable care.
Initiatives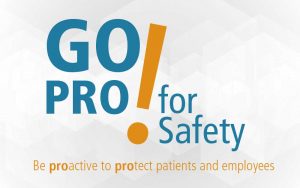 Go Safe focuses on the safety and security of our grounds and other environmental factors. Safe stands for Security Awareness Facility Environment.
Environment of Care rounds: efforts to reduce potential for patients harming themselves. Improvements include weighted or secured furniture, magnetic bathroom door installation, and removal of ligature points.
Can the Can: Aluminum cans create the risk of self- harm for patients and environmental hazards can increase the opportunity for injury.
See Something, Say Something: aimed at increasing staff awareness and reporting, this initiative focuses attention on surroundings.
Injury Prevention: activities related to preventing staff injuries due to hazards, improper techniques, and increasing staff knowledge on post-injury protocols.
Go Zero aims to eliminate patient and employee harm caused by use of restraints and seclusion, medication errors, and falls.
Nonviolent Crisis Intervention (NCI)- As part of the Go Zero initiative, NCI is being relaunched within Rogers with goals to promote the best possible care, welfare, safety, and security for staff and patients involved in a crisis situation and ultimately to have zero restraints and seclusions.
Medication safety: On any day, patients at Rogers Behavioral Health receive medications as a part of their treatment. When given correctly, medications are a beneficial part of bringing patients back to health. Applying the Go Zero initiative to medication safety means we aim to reach zero medication errors. To help nurses in achieving this goal, nurses now have the structure and equipment to conduct private, safe, and timely medication passes.
Fall Prevention: the Go Zero fall reduction program is being developed to include clinical operating procedures to address falls holistically in the adult addiction and eating disorder inpatient setting.
The Clinical Effectiveness and Quality Department reviewed aggregate data to better establish system Safety and Quality priorities. The analysis determined:
74% of incidents occurred in patient rooms
Improvement in incident documentation can aid in better insights.
Data collected in the electronic health record can lead to further insights into adverse events.
More cycles through clinical protocols lead to better outcomes and fewer readmissions.

Priorities:
Safety Rounding – multidisciplinary team from multiple campuses to analyze and improve the existing process.
Suicide Risk Prediction – Utilizing advanced computer science techniques will provide us the ability to better predict suicidal behavior.
Clinical pathway recommendations – Utilizing evidence-based outcomes and protocol templates to direct patient care through various levels of service in order to decrease recidivism and increase clinical effectiveness.
For more than 110 years, Rogers Behavioral Health has been a leading not-for-profit, private provider of specialized mental health and addiction services for adults, teens, children and families. Rogers provides treatment in Wisconsin and six other states, making it one of the largest providers of specialty behavioral healthcare. Learn more about services for depression and mood disorders, eating disorders, addiction, obsessive-compulsive and anxiety disorders, and posttraumatic stress disorder at www.rogershospital.org.